What do you do when you're out of flour and not gluten intolerant but have all the other ingredients? Make these fudgy gluten-free brownies! I know you've done this too. You're carving sweets but you didn't make it to the market to refresh your basic baking staples like flour. But wait!! You have some ingredients and maybe just the right ones to make something sweet.
I know when I'm in this pickle, I rummage through recipes searching for the one that will match the ingredients I do have so I have to get my sweet tooth satisfied!
I lI love these brownies and I am not a gluten-free eater. I love these fudgy gluten-free brownies because when want something that isn't so dense, and doesn't have that grainy gluten-free texture you usually get, I make these. They are easy to prepare and they don't take very long to bake. Before you know it, you will be sinking your teeth into one (or two) of these decadent delights.
WHY YOU'LL LOVE THIS OOEY GOOEY FUDGY BROWNIES RECIPE
I am not gluten intolerant. I love these because they are so moist and fudgy. You will love these because not only will they be easy on the tummy, but you will get that decadent flavor too.
They last longer because they don't have flour in them.
They don't have that grainy texture that most gluten free baked goods have.
RECIPE INGREDIENTS
Semi-sweet chocolate chips (or milk chocolate chips)
Unsweetened Dutch processed cocoa
Instant espresso powder (optional)
INGREDIENT NOTES
I personally prefer a double boiler method when melting chocolate. I feel there is more control over the melting process. The microwave method is quicker.
Microwave method: In a medium microwave safe bowl combine the butter and chocolate chips. Place the bowl in the microwave oven and melt in 20 second intervals until melted and smooth. This might take about 1 minute or longer. Careful not to over heat. Follow the rest of the instructions.
Double boiler method: Take a large sauce pan and fill it less than halfway with water. Set the pan on medium heat until the water heats up and steams. Add the chocolate chips and butter to heat safe bowl and set it on top of the sauce pan. Stir until melted and smooth. I think you have more control over the melting using this method. The microwave method is faster.
HOW TO MAKE FUDGY GLUTEN-FREE BROWNIES STEP BY STEP
Step 1 – Melt the chocolate chips and butter until smooth.
Step 2 – Add the brown sugar and mix until smooth.
Step 3 – Add in eggs and vanilla.
Step 4 – Mix in the cocoa powder, corn starch, espresso powder and salt.
Step 5 – Fold in remaining chocolate chips and bake.
RECIPE TIPS AND TRICKS
HOW TO GET THAT CRACKLY GLOSSING TOP
To get that glossy crackly top whip the eggs into the batter for about 30 sec to a minute.
HOW TO GET FUDGY BROWNIES
Be care not to over bake your fudgy gluten-free brownies. Remove them form the oven when the batter is still a little gooey and crumby when you insert a tooth pick. Remember, the brownies will continue to bake while they're cooling.
STORAGE AND REHEATING
Store your brownies in an air tight container. They will last for up to a week. To freeze brownies, place the in a freezer safe containers. They will last up to 3 months in the freezer.
ADDITIONS AND SUBSTITUTIONS FOR FUDGY GLUTEN-FREE BROWNIES
Add your favorite additions such as nuts, white chocolate chips or caramel. It's all up to you. Remember, since there is no flour in this recipe, be sparing with the amount of additions you use.
You can substitute the cornstarch for arrowroot powder.
FREQUENTLY ASKED QUESTIONS
Can I double the FUDGY GLUTEN-FREE BROWNIE recipe?
Yes you can. Just be sure to either divide the batter for two 9×9 in pans or use a large pan such as a half a sheet pan.
OTHER GLUTEN FREE RECIPS YOU'LL LOVE
DID YOU MAKE THIS RECIPE BLOCK GRAPHIC WITH – PLEASE GVE IT STAR RATING BELOW OR TAG @EATINGAFTERCHEMO ON INSTAGRAM – IT HELPS ME SO MUCH! SUBSCRIBE HERE AND FOLLOW ME ON INSTAGRAM, FACEBOOK, TWITTER AND PINTEREST!
Print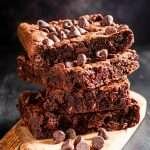 Fudgy Gluten Free Brownies
---
Description
No upset tummy with these fudgy gluten free brownies. You will never know the difference!
---
1 1/2 cups chocolate chips, divided
6 tablespoons unsalted butter, cut into tablespoon pieces
1/2 cup packed light brown sugar
2 large eggs
2 teaspoons vanilla extract
1/4 cup unsweetened Dutch processed cocoa
3 tablespoons cornstarch
1/2 teaspoons espresso powder, optional
Salt flakes for sprinkling (optional)
---
Instructions
Preheat oven to 350°F. Line a 9×9 in pan with parchment paper.
Melt the butter and 1/2 of the chocolate chips together. (see notes above for m both methods for melting the chocolate chips and butter)
Stir in the brown sugar and mix until smooth.
Add in one egg at a time and the vanilla. Mix until smooth. (see notes above)
Fold in the cocoa powder, corn starch, espresso powder and salt.
Fold in the remaining chocolate chips
Pour the batter into the 9×9 pan and place in the oven for 20-25 minutes. Until a toothpick comes out with both crumbs and batter. (see notes above)
Sprinkle with salt flakes and allow brownies to cool in the pan for 5 minutes before pulling them out using the parchment paper. Cut into squares when they are completely cooled.