These salted caramel brownies are moist, gooey, and super fudgy with pockets and wells of fresh homemade caramel. I promise you will get a mouth full of caramel with each bite.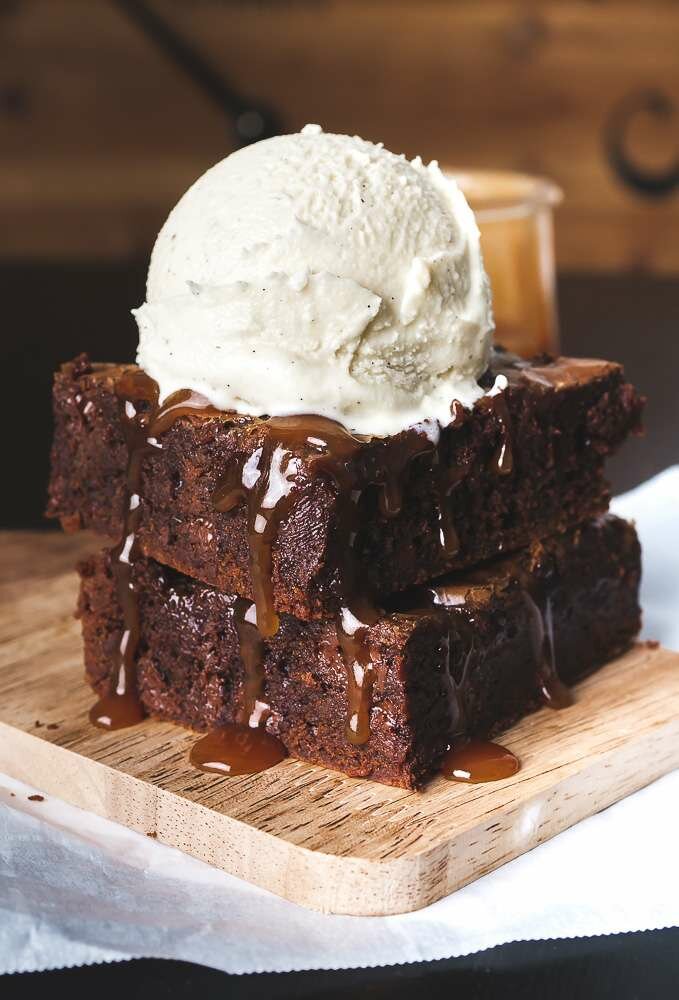 There's no deep hidden secret for the perfect chocolate fudgy brownies. If you are a huge chocolate lover like me, and you enjoy gooey desserts, you will turn out the best brownie, I guarantee!
What makes these brownies so special?
GAHHH! These brownies are so delicious, creamy, fudgy and all the mouth-watering adjectives you can think of that accurately describes these beauties. Here's why I think these fudgy salted caramel brownies are so special. Let me show you how to make fresh caramel sauce!
These brownies contain fresh homemade caramel sauce. YES! Salty buttery caramel sauce!
I use instant espresso powder to enrich the chocolate flavor.
You can eat these brownies as is, or you can pop them in the oven for a few seconds. Then top with some vanilla ie cream or homemade whipped cream. TGIF has nothing on these brownies!
Ingredients
Homemade salted caramel -for the recipe and how to make the caramel sauce.
Eggs: Eggs are the source of fudgy brownies and what gives the top that shiny crackly look.
Butter: I use unsalted butter for these brownies since you will be adding salt to the batter and using salted caramel.
Brown sugar: I use light brown sugar for this recipe. Brown sugar gives these brownies a butterscotch flavor that is unparalleled.
Unsweetened cocoa powder: You can either use plain unsweetened cocoa powder or dark cocoa powder. Not only does cocoa powder add to the chocolatiness of these delish brownies, but you also won't need to add as much flour.
Flour: I use a minimal amount of unbleached all-purpose flour. Since I am also using cocoa powder, you won't need as much flour.
Dark chocolate: I use 70% cocoa chocolate bars for these brownies. You can also use semi-sweet chocolate chips instead. If you want a more milk chocolate feel, use milk chocolate.
Espresso powder: Espresso powder elevates the flavor of chocolate. I use instant espresso powder for these brownies. If you are not a fan of the flavor of coffee, you won't taste the coffee!
Vanilla: I use quality real vanilla extract. Vanilla ties all the brownie flavors together and will deliver that bakery-fresh brownie vibe.
How to make fudgy brownies
Step 1: Whisk together the dry ingredients and set aside.
Step 2: Warm the butter and brown sugar. Beat with a hand mixer until glossy. (and still grainy). Beat in the melted dark chocoalte.
Step 3: With the hand mixer, beat in the eggs and yolk, one at a time. For about a minute.
Step 4: Gently fold the dry ingredients into the wet ingredients. You should still see a little flour. Next, rough chop fold in the other 4 ounces of chocolate.
Step 5: Spread the batter into the 8×8 pan. Add dollops of caramel on top of the batter, and gently swirl caramel with a spoon. Careful not to mix the caramel into the batter. You will want those deep pockets of caramel goodness!
Tips for the best…
For no-fail fudgy brownies, I've come up with some helpful tips. Follows these suggestions and you can't go wrong!
Beating in enough air eggs will give your brownies a shiny crackly top.
Adding in one egg yolk will make your brownies extra fudgy and chewy.
Add instant espresso powder. Don't worry, you won't taste the coffee. Coffee perfectly enhances the chocolate flavor.
To ensure your brownies come out fudgy and not cakey, do not overbake them. You can pull them out of the oven a little underbakes. They will continue to bake as they cool.
How to store …
If by chance you happen to have some brownies leftover, you can definitely freeze them. Place them in an air-tight freezer-safe container. They will last up to 2 months in the freezer. When you are ready to serve them, let them thaw. Then place the brownies in a pre-heated oven for about 3-4 minutes.
If you plan on serving them the same day, the brownies can stay covered at room temperature. You can even leave them like this overnight.
FAQ
How do I refresh the brownies once I take them out of the freezer?
Let them thaw until room temp. You can place them in a pre-heated oven (350°F) for about 5 minutes.
Can I add more caramel after they've cooled?
I hope so! For the pourable caramel sauce, warm some in the microwave for a few seconds. It will warm up pretty quickly so keep an eye on it.
Love the Fudgy Salted Caramel Brownies? Try these easy and yummy recipes:
Triple Chocolate Chunk Sandwich Cookies
My Mom's Super Moist Chocolate Cupcakes
DID YOU MAKE THIS RECIPE? PLEASE GIVE IT A STAR RATING BELOW OR TAG @CRAVINGTHEYUM ON INSTAGRAM – IT HELPS ME SO MUCH! FOLLOW ME ON INSTAGRAM, FACEBOOK, PINTEREST, AND TWITTER.
Print
Fudgy Salted Caramel Brownies
---
8 tablespoons butter
2/3 cups flour
1 cup light brown sugar
2 large eggs + 1 egg yolk
1/2 cup unsweetened cocoa powder
1 teaspoon espresso powder
8 ounces dark chocolate
2 teaspoons vanilla extract
1/2 teaspoon salt
---
Instructions
Preheat the oven to 350°F. Line an 8×8 pan with parchment paper.
Make the salted caramel sauce. Then pour the hot caramel over a parchment-lined sheet pan and stick it in the freezer for 5 minutes. See how to make salted caramel sauce here.
In a medium-size mixing bowl. whisk together the flour, cocoa powder, espresso powder, and salt. Set aside.
Heat the butter and brown sugar in a large mixing bowl in 15-20 sec increments whisking after each time. The mixture will be glossy and grainy.
Take 4 ounces of the chocolate and rough chop it. You are going to melt the chocolate in a microwave safe bowl in 10-second increments. After 10 seconds stir. Repeat until the chocolate has fully melted.
Whisk the melted chocolate into the butter-sugar mixture until mixed. If it's warm, allow to cool for a minute.
With a hand mixer on low, you are going to beat in the eggs one at a time. Beat for about 1 minute. This is the part that will give your brownies that shiny crackle top.
Pour the dry ingredients into the wet, and gently fold in just until you see a little flour. Take the other 4 ounces of chocolate and give it a rough chop. Now, fold in the chocolate pieces.
Pour batter into the lined pan and spread out evenly.
With a small spoon, scoop out medium mounds of caramel and drop them in a different place on the brownie batter. Take the spoon and lightly spread the caramel, being careful not to mix the caramel into the batter. The caramel should be visible.
Bake for 25-30 minutes. For fudgy brownies, you'll want to underbake them. Do the toothpicks test after 25 minutes. Insert a toothpick into the center of the brownies. If the toothpick comes out with wet batter and crumbs, it's time to remove the pan from the oven. It will continue to bake as it cools.
Cool completely before serving. Enjoy!
Prep Time: 20 minutes
Cook Time: 30 minutes
Keywords: brownies, caramel brownies, salted caramel